Things we do for people and the planet
As an organisation we were founded to deal with a societal problem – helping teachers buy homes when most providers rejected them as unattractive lending prospects.
Whilst financial services have moved on and borrowers are no longer discriminated against due to their gender or profession, our work in society is far from complete.
We think helping teachers buy homes is a pretty amazing purpose, and it is one that will continue to drive us. But the way we achieve that goal is just as important to us as the goal itself.
Every member of the Teachers Building Society team feels a shared responsibility to achieve our purpose in a way that also helps solve some of the challenges facing the planet and the people we share it with, and so we work with four strategic pillars in mind: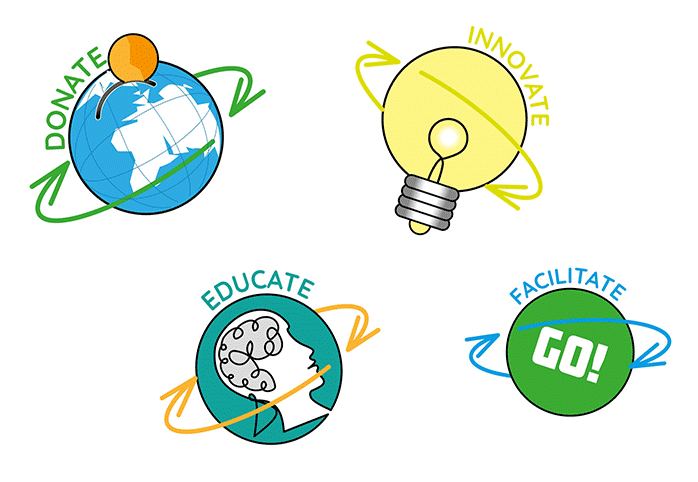 Donate
At Teachers Building Society we're unashamedly all about teachers. So it will come as little surprise that as well as helping teachers buy homes (and save money), we also do what we can to support the teaching profession as a whole.
We do this primarily through our partnership with Education Support, a charity dedicated to the mental health and wellbeing of teachers and education staff. Education Support offers a confidential support helpline, a grants service for teachers with money worries and an employee assistance programme. During the first covid-19 lockdown we were able to make an immediate donation of £50,000 to ensure the charity's vital services were not interrupted at a time when teachers were facing unprecedented challenges inside and outside of the classroom.
Innovate
Much as we'd love to, we accept that as a building society we can't do everything. We don't manufacture or supply large amounts of goods that could be created in a greener way. There are simply spaces of the environmental challenge that are not in our gift to influence. So we're focussing our attention on the areas we can change. We're doing the common sense things like cutting down on paper usage, ensuring we recycle and use energy efficient lighting in our office building.
But we think the greatest opportunity for us to make a big difference is financial product innovation that supports green housing. We're not looking for a quick win, but a solution that will genuinely help teachers buy better (greener) homes that doesn't simply exclude a chunk of housing stock for being eligible for a mortgage. We promise to share more details as we start to clarify our vision.
Facilitate
Our main office is in Dorset (near the south coast of England). Many of our lovely colleagues live in and around the area although others live further afield. Regardless of location, we facilitate each and every member of the team to give something back to a cause they feel passionate about, whether environmental, local or educational. We do this by empowering colleagues to spend up to two working days a year getting involved in projects. To date these have involved:
Educate
It's not rocket science. We all have to make changes to make the planet a better, healthier place.
You know about teaching, we know about home ownership. We also know a thing or two about how to run a home in an eco-friendly way, that might just help you save some money too. We've produced a guide to simple changes that you can make. Here are just a few of our top tips:
The team at the top
Strong principles require strong leadership. Find out more about our board of directors
People like us
Could you be as passionate about us as we are? We're looking for creative, passionate people to join our team
Teacher and education staff wellbeing support
Supporting teacher and education staff wellbeing for 145 years.